by Maverick Label | September 10, 2021
You probably have an inexpensive inkjet printer in your office right now. You might think running labels through it can help you save money. There is, however, a hidden (and high) print cost to this. Printer manufacturers often sell these printers below cost, which sounds like a bad deal for them. It might, instead, be a bad deal for you.

Black Ink is One of the Top 10 Most Expensive Liquids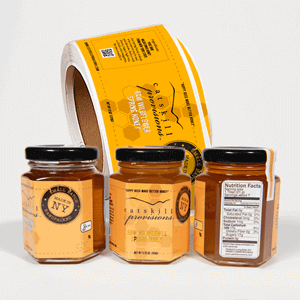 You can get a brand new ink jet printer with great print quality for an incredibly low price. However, replacing the cartridges for that printer will cost you almost as much as the printer itself, and sometimes more. Black inkjet ink is consistently rated as one of the most expensive liquids in the world, right up there with insulin and human blood. According toa Consumer Reports , in 2018, you could buy 2,250 gallons of regular gas or 2,254 gallons of whole milk for the same price as one gallon of printer ink (at an average cost of $6,400).


A Sales Strategy
King C. Gillette, whose last name now adorns items in men's grooming kits around the world, stumbled upon the idea of the disposable razor when he was a traveling salesman in the late 1890s. His plan was to craft a razor handle of good quality, and to sell the handle at a small loss. Customers would love the handle, and buy replacement blades in order to keep using it. The blades could be sold at a profit to these customers, who returned on a regular basis.

This type of sales strategy became known as the "razor and blades" business model, and many companies have employed it. When Standard Oil wanted to move into China, they gave away 8 million kerosene lamps in order to create a market for their lamp oil. Apple didn't make much money from iPod sales; they profited when consumers bought music from iTunes. And, of course, there are the printer companies, whose use of this tactic is notorious.


Cut This High Print Cost

As business owners can quickly find out, when you print color labels and tags on a regular basis, the cost of ink can really add up. This makes a do-it-yourself solution only feasible when printing is done infrequently or uses little ink. You could save ink by printing at lower quality, but do you really want to do that for product labels or other items?

Identifying what you print over and over again on regular basis allows you to outsource those printing jobs. Need to find out how much you can save? There are a number of printing cost calculators available online. You might find out that it makes sense to order from a professional label printer rather than try to do it yourself.


Let Us Print the Expensive Part
In addition to fully printing custom labels, we also can help you reduce your label printing costs by partially printing your shipping, integrated, or product labels. We can print your logo, artwork, and other "static" information, and you save by only printing the addresses, ingredient list, or other variable data. Most of our product lines have low minimums, so you don't have to overstock your labels or worry about not being able to use them all.

And, of course, if you still want blank labels to print yourself, you can get those from us as well!
So you've decided to offer a new variety of e-liquid, or to enter the vaping product market for the first time. What do you need to know about labeling your latest product?
Your e-liquid labels and packaging strategy in general are critical for reaching customers. You have to pursue two objectives at once, creating labels that will help your brand stand out while also following the many legal requirements facing the vaping field.
Compete in the Vaping Market with E-Liquid Labels
The numbers are clear: E-liquid is a rising force in the overall vaping products market. If your company produces this liquid, you should be ready for brisk competition — its popularity won't have gone unnoticed by other companies.
According to Research and Markets' 2020-2025 Vape Market report, there's an overall shift away from rechargeable e-cigarettes that use proprietary cartridges. In their place, e-liquid is gaining in appeal, with customers realizing refillable vaporizers are the most economical form of vaping equipment.
Other trends observed in the report include the rise of nicotine-free e-liquid. This is in response to some countries banning various formulas of vape juice, and is occurring alongside a move away from tobacco flavors in general.
To compete in this time of diversifying flavors, consolidating major market performers and a general shift away from smoking and toward vaping, you'll need to seize every advantage possible. Compelling and well-designed e-liquid labels are a great tool for your brand. First, however, you have to ensure compliance.
Label Your Vape Products for Compliance
In the past few years, the legal picture around e-liquid warning labels has become clearer. In 2016, the U.S. Food and Drug Administration took control of vape product labeling, bringing these items in line with cigarettes and other tobacco-based items, which have been the FDA's purview since 2009.
The warning label required on e-liquid packaging has to be located in a prominent place on each of the "primary display panels" of a product's label, and has to take up 30% or more of that space. The font has to be at least 12-point, and be either Helvetica bold or Arial bold for easy legibility.
There are special requirements if an e-liquid bottle is too small for the required statement. In these cases, the bottles should be sold in a carton, wrapper or container that does include the warning. Alternatively, there can be a permanent tag affixed to the product.
There is an alternative, simpler statement that goes on tobacco-derived products without any nicotine. Getting approval for such a label requires FDA certification.
Make Your E-Liquid Labels Stand Out
Even when it's time to get into the "fun" part of labeling, graphic design, it's important to keep compliance in mind. As part of the FDA's crackdown on underage tobacco use, the agency has forbidden the sale of many flavors of e-liquid over the counter, and taken action against companies that use packaging too similar to kid-focused foods and candy.
Your task as a vape product manufacturer is to create the most compelling package possible for adult buyers while not straying into any imagery that could trigger the FDA to act. The 99 Designs inspiration gallery for liquid labels includes several examples of how professionals have walked this line, with sophisticated and minimal designs that use splashes of color but don't resemble candy.
One of the most important steps in your e-liquid label design process is picking your custom label printing partner. With Maverick Labels on your side, you can receive custom labels cut to the exact size of your e-liquid bottles, made from the label material and finishing treatment that best suit your brand's identity, whether it's flashy, subtle or anything in between.
Request your FREE instant quote today.